Zenit by Nace
Approximately 1 in 80 pregnancies may be affected by one of the genetic conditions screened by the new test Zenit.
Zenit represents a redefinition of the current concept of prenatal screening since it analyses a comprehensive battery of clinical conditions relevant to the well-being of the future baby. This will give a greater peace of mind for the patient.
Zenit offers a new added value to prenatalrisk assessment, non-contemplated with the current approaches.
Besides assessing the risk of chromosome aneuploidies in the foetus, Zenit screens for 112
single gene disorders of moderate to severe phenotypes with significant impact on the quality of life.
Increases the detection rate by a factor of five compared to other basic screening tests.
Increases the detection rate by a factor of three compared to the most complete non-
invasive prenatal test.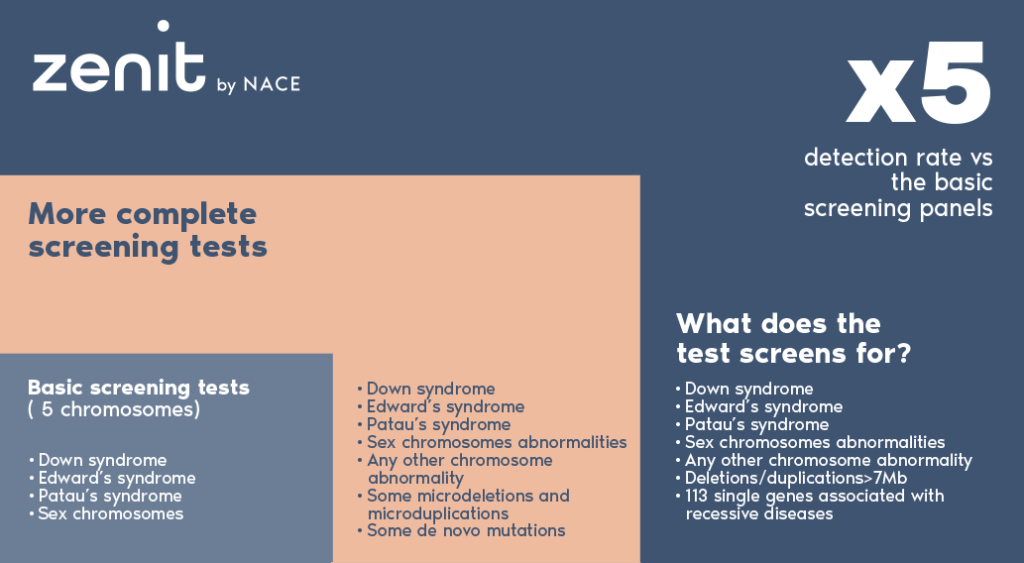 Zenit by Nace offers the most complete clinical approach for:
Cytogenetic conditions screening: Screens for whole aneuploidies in all chromosomes and
deletions/duplications with a resolution comparable to the karyotype test.
Inherited mutations screening: Evaluates the risk of transmission of more than 100 recessive
conditions. A Gene panel recommended by the American College of Medical genetics and
genomics (ACMG).
How is it the procedure?